This month's tree memory has been kindly shared by Corrine Spencer. Corrine lives in Stoke and is currently the Chair of the Gosford Park Residents Group. Her work with the residents group has brought about many positive initiatives for the local area and the environment.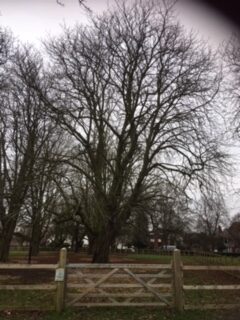 My husband proposed to me in May 1973 under a Horse Chestnut tree in Stoke Green and we got married in 1976. Sadly, we divorced 25 years later, but remained best friends up to his death from cancer in 2013. This beautiful tree is located in Stoke Green Park – It is the last Horse Chestnut tree on the right hand side of the old avenue of trees facing Hollis/Hugh Roads. The old Avenue of Horse Chestnuts are now in a fenced enclosure due to disease and are being kept safe to die gracefully.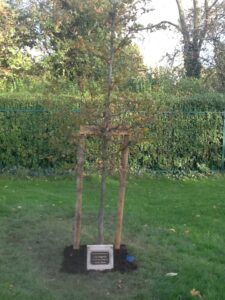 My son, daughter and I have now had a Copper Beech tree planted in Gosford Park in memory of him (Jim Angwin) which I can look out on every day from my bedroom window. We felt that not only would planting a tree be good for the environment, but is would also grow for many, many years and serve as a lovely memorial. My two grandsons (who sadly never knew their grandad) regularly talk about Grandad Jim's tree in the Park.
We chose to plant a copper beech tree as Jim always loved trees with red foliage and this tree changes colour throughout the year – going from green to yellow, to red and to brown.
Corrine Spencer