Tree Story #1 – The Old School Tulip Tree
Send us your favourite tree!
Send us a picture of your favourite tree from your daily exercise walk or tell us a story of a favourite tree (don't worry if you don't know the type of tree, it will be a challenge for the tree wardens to name it before we post it on the website!).
Here is our first favourite tree story:
"One of my favourite trees is the tulip tree. This is because my prep school was in an old house in a huge garden with a beautiful old tulip tree. The shape of the leaf was the school emblem embroidered on the blazer pocket. I was there from aged 5 to 12 and for some reason have never forgotten the shape of the leaf. A few years ago I went back to Aylesbury and went to find my old school. The old house is still there, but the garden is now built over with houses. Sad."
This particular picture of a tulip tree was taken on a recent Tree Wardens' outing to Radford Semele. The Tulip Tree was in or near the church grounds. In full flower it's magnificent. Also the tree wardens planted a Tulip Tree in the Memorial Park near Coat of Arms Bridge Road, where Network Rail removed trees along the railway.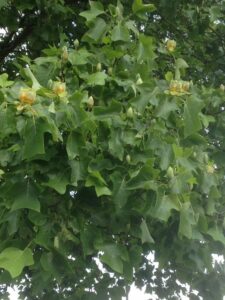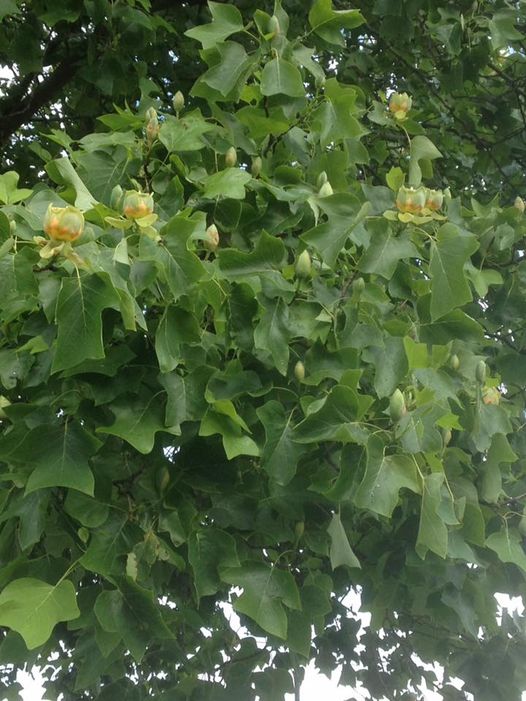 Tree Story #2 – Harriet's Oak
My favourite tree is an oak in a neighbour's garden. I see it each day and over the years it has become very dear to me. I am not able to make an accurate estimate of the age of this magnificent tree. However, I'd guess it is well over a 100 years old. I've only known it for the past 11 years but over this time it has given me great pleasure and watched over me in some difficult times.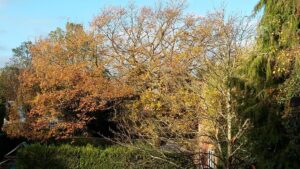 I've experienced great joy in seeing the tree as the seasons change. Throughout the year its colours shine out in the sunlight. In spring as the new leaves unfurl they are a fabulous shade of green; a shade that has a luminous quality that is hard to describe. As the season changes to summer the colour of the leaves deepens to emerald as the sunlight shines through them. As the year goes on, the leaves change to a deep shade of gold that glows in the sunlight on chilly November afternoons. They are often the last leaves to fall. As the bones of the tree are exposed in winter, I can see how the branches reach out towards the light, stretching to grab every last sunbeam.
The tree is home to a huge variety of birds. One of my favourite sights, in Autumn are Jays and squirrels harvesting acorns to cache for the winter months ahead. In winter fat wood pigeons sit in the canopy catching the sun and cooing a gentle song. Winter is also the time when flashes of red alert me to the presence of a great spotted woodpecker or a group of fieldfares. In spring tits of all varieties flit thought its branches picking at the leaf buds and insects buried in the bark like troops of acrobats swinging upside down in the branches like tiny monkeys while a mistle thrush reigns at the top of tree singing loudly to attract a mate. On rare occasions the tree hosts a buzzard, a tawny owl or the local sparrow hawk; probably in the knowledge of rich pickings in the surrounding branches. Not so long ago I had a long period of illness that went on for a year or so. There were many days when I was unable to leave the house. Looking at the tree and the abundant life it supports brought me great pleasure and reminded me of the restorative powers of the nature. This tree has become very dear to me, I regard it as a friend who has brought me great joy and supported me through some tough times. Recently, research has shown the healing powers of the natural world; doctors are beginning to prescribe activities in the outdoors to help with mental and physical wellbeing. I fully agree with these findings. Being able to see trees and greenery every day certainly helped my recovery. I want to say thank you to the oak tree and all the other trees in Stoke park and wish it another few hundred years of healthy and abundant life.
Harriet Gore
Tree Story #3 – Corrine's Horse Chestnut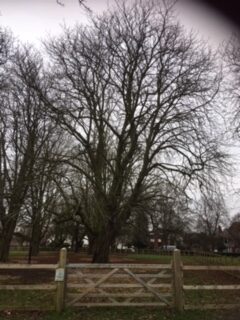 This month's tree memory has been kindly shared by Corrine Spencer. Corrine lives in Stoke and is currently the Chair of the Gosford Park Residents Group. Her work with the residents group has brought about many positive initiatives for the local area and the environment.
My husband proposed to me in May 1973 under a Horse Chestnut tree in Stoke Green and we got married in 1976. Sadly, we divorced 25 years later, but remained best friends up to his death from cancer in 2013. This beautiful tree is located in Stoke Green Park – It is the last Horse Chestnut tree on the right hand side of the old avenue of trees facing Hollis/Hugh Roads. The old Avenue of Horse Chestnuts are now in a fenced enclosure due to disease and are being kept safe to die gracefully.
My son, daughter and I have now had a Copper Beech tree planted in Gosford Park in memory of him (Jim Angwin) which I can look out on every day from my bedroom window. We felt that not only would planting a tree be good for the environment, but is would also grow for many, many years and serve as a lovely memorial. My two grandsons (who sadly never knew their grandad) regularly talk about Grandad Jim's tree in the Park.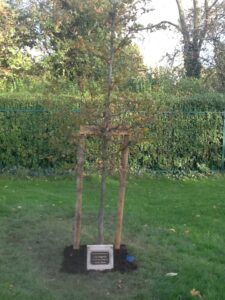 We chose to plant a copper beech tree as Jim always loved trees with red foliage and this tree changes colour throughout the year – going from green to yellow, to red and to brown.
Corrine Spencer
Tree Story #4 – The Cannon Hill Oak
This month our tree memory comes from Pip Pountney. As you may know Pip is currently Co -Chair of the Coventry Tree Warden's Network committee. She has been actively involved in promoting and supporting the preservation of our City's trees for many years. Pip's tree memory highlights how local people and communities can and do make a huge difference in protecting our trees.
The Cannon Hill Oak
My tree memory involves a grand old oak that has been measured and recorded as over 500 years old – verified by the Woodland Trust. It has a Tree Preservation Order and is on the Ancient Tree Register. It has some decay but our Tree Officers are happy with the overall condition of its trunk and canopy. Located on the corner of Cannon Hill and Hilary Road CV4 7BX it is a real land mark.
I've lived on Cannon Hill Road most of my life and there are many beautiful mature trees along the length of the road. These somehow survived the blitz even when the road and buildings were damaged.
During the 50's and 60's Merynton and Tutbury Avenues were constructed and housing development covered nearby fields. Suddenly the old oak was a nuisance – it made access for cars rather tricky so the Council decided to fell. Local residents protested loudly and the oak was reprieved but radically reduced.
Over the years the Cannon Hill Oak has slowly recovered and is a wonderful tree. I still enjoy happy childhood memories of climbing up into its branches, watching life go by and listening to the wind in the leaves. Now in my 70's I just keep a loving eye on it.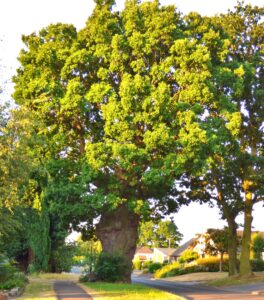 Coventry has mature and ancient oak trees scattered across the city – many in unsuitable locations due to city development. But it is vital that city planners and communities protect and treasure them since many are older than most of our historical buildings and all are an important part of our heritage.
Our Urban Forest is vitally important for both physical and mental health. We need to plant new trees in every location possible but must also value and protect our mature and ancient trees. These mop up pollution, provide clean air and shade, prevent flooding and give us something beautiful to look at and a sense of well being.
The English Oak (Quercus Robur) can live for 1000 years and hopefully the Cannon Hill Oak will be allowed to live on so that future generations can enjoy it for many years to come.
Pip Pountney
Tree Story #5 – Frank's Indian Bean tree
As we wait for many of our trees to wake from their winter slumber signs are emerging to tell us Spring is surely on its way. To help celebrate its long awaited coming, this month Frank Vince has kindly shared with us some memories of one of his favourite trees. Frank is a retired consultant Physician and is actively involved in the Coventry Tree Wardens Network and also sits on their Committee.
Frank's tree is the Catalpa Bignonioides, here are few Catalpa facts. The Catalpa Bignonioides is native to the Southern United States. Fossil remains have even been found in the Miocene rocks of the Yellowstone River. It is a deciduous tree with a lifespan of approximately 60 years. It can grow to 40-70 foot high and is famous for its long seed pods. The roots are said to be highly poisonous.
Frank says "The Catalpa Bignonioides (Indian Bean tree) is located opposite the central police station in the city centre. I walk past it frequently as do many Coventrians. It has wonderful flowers and huge leaves. I have watched it for 40 years. It is well established and looks very healthy. Long may it last!!"
Frank's Catalpa must have many a tale to tell given its location opposite the police station. If you get the chance to see it in full bloom the best time to make a visit is July or August. It does not come into leaf until quite late in the season.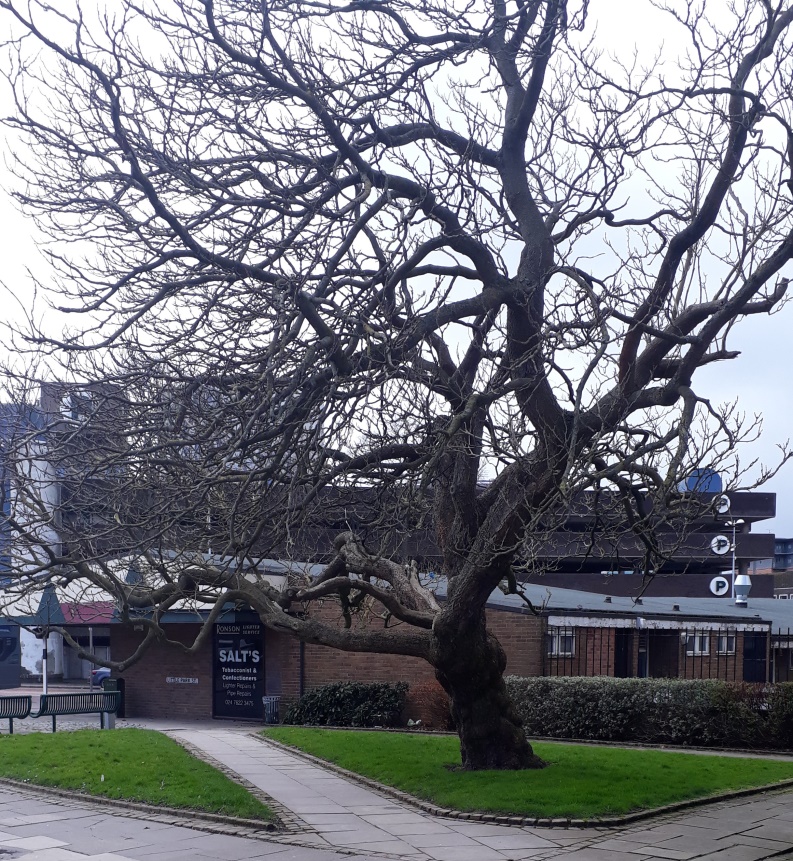 Tree Story #6 – Avril's 'Knocking Tree'
Our tree memory for April is shared by Avril Finnie. Avril was born in Coventry and grew up in the Whitmore Park area. Avril worked for many years at Warwick University Library as a Customer Support Coordinator for Customer Services. She has recently moved with her family to the enviable location of Penmaenmawr in North Wales.
Avril says "When I was growing up I would often spend school holidays going to Coundon Park with my cousin or friends. We would invariably end up exploring St. Thomas' Church and graveyard that was opposite the park on the Tamworth Road in Keresley.
In front of the church was a very old and large tree, I believe it was a Redwood tree. This tree was known to us children as the 'Knocking tree'. The fascinating thing to us was that you could hit the tree with your fist as hard as you could and it wouldn't hurt as the bark was very soft and spongy. I was intrigued to find out that the spongey bark helps the tree to withstand low intensity wild fires. The bark can be 12 centimetres thick and can even reach up to over a metre thick at its base.
Perhaps we shouldn't have been playing in the churchyard, but my memories are of happy carefree times and being in awe of such a beautiful resilient tree as our 'knocking tree'. The magnificent Redwood."